26 de fevereiro de 2013 por Paulo Lima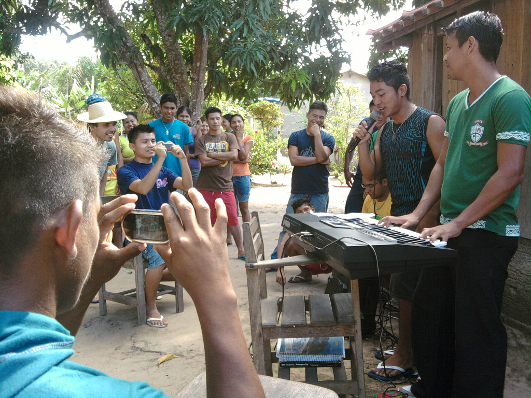 Projeto Conexão Amazônia, desenvolvido numa parceria entre Fundação Telefônica / Vivo , Ericsson e Projeto Saúde & Alegria conquistou em Barcelona o  Prêmio Mundial de Comunicação Móvel na categoria Melhor Produto, Iniciativa ou Serviço para Mercados Emergentes.
Nova vitalidade e novas oportunidades foram adquiridas durante 4 anos de desenvolvimento, possibilitadas através da conexão banda larga. A Fundação Telefônica  Vivo e Ericsson instalaram a primeira estação base de rádio em 2009 na pequena cidade de Belterra, Pará, Brasil, fornecendo voz 3G e pacotes de dados para 30,000 pessoas em 175 comunidades. Em 2010, a cobertura 3G foi estendida para um barco conectado que fornece serviços de saúde e educação para ribeirinhos que vivem nas margens do Rio Tapajós. A expansão alcançou a remota comunidade de Suruacá em 2011, com a instalação de uma nova estação rádio base funcionando com energia solar e o programa Connect To Learn foi lançado em 2012.
É o Projeto Conexão Amazônia, um programa de inclusão digital apoiado pela Fundação Telefônica Vivo e Ericsson (NASDAQ: ERIC)  que foi anunciado hoje, dia 26/02, durante Congresso realizado em Barcelona, ganhador do Prêmio Mundial de Comunicação Móvel na categoria Melhor Produto, Iniciativa ou Serviço para Mercados Emergentes.
Em 2009, a Vivo e a Ericsson, em colaboração com a Organização Não-Governamental Projeto Saúde e Alegria, começaram um projeto para possibilitar a comunicação e o melhor acesso à saúde, educação e crescimento econômico em uma região remota do mundo. O acesso à tecnologia de informação nas comunidades levou a expandir as aplicações, despertando o espírito de empreendedorismo, possibilidades de emprego e expressão cultural.
Uma pesquisa conduzida por uma iniciativa independente, a Agência de Suporte para Empreendedores e Pequenos Empresários, identificaram que 92% dos que responderam acreditam que a telefonia móvel e os serviços de internet tiveram um papel fundamental no desenvolvimento da região. 53% dos que responderam, acreditam que os serviços da telefonia contribuíram para a criação de empresas e empregos. A primeira torre de estação base de rádio foi instalada em 2009, na comunidade de Belterra, Pará, Brasil. Como planejado, a estação base proporcionou, inicialmente a 20.000 pessoas, voz 3G e pacotes de dados em uma área que anteriormente não tinha conexão móvel. Isto em si foi uma marcante façanha, porém os técnicos notaram que alguma coisa inesperada tinha acontecido: o Rio Tapajós estava funcionando como espelho, ampliando o alcance do sinal 3G. Isto possibilitou que o Barco Hospital Abaré,  que navega ao longo do rio, estivesse conectado a banda larga em 2010.
A expansão para Suruacá, na outra margem do Rio Tapajós foi única no desenvolvimento em si, o qual foi dificultado pela densa vegetação, falta de infraestrutura e tempo imprevisível. Não existia nenhuma fonte de energia na comunidade. Então a Ericsson construiu um inovador sistema híbrido (solar e vento), o qual possibilitou uma de comunicação totalmente funcional nesta parte da Amazônia.
Durante os 4 anos do projeto, uma parceria público-privada apoiou a criação de uma série de iniciativas melhorando as condições para as pessoas nas comunidades locais. Por exemplo, o Projeto Saúde & Alegria juntamente com a Prefeitura de Santarém, utiliza o Abaré, um grande barco hospital, para fornecer serviços assistenciais de saúde para os habitantes de mais de 70 comunidades ao longo do Rio Tapajós. A Telefônica / Vivo instalou uma antena no barco, garantindo que o sinal 3G, que estava sendo ampliando naturalmente  pelo rio, pudesse ser enviado ainda mais longe. Como resultado, qualquer um que estiver a bordo do Abaré, agora tem acesso a uma confiável conexão banda larga móvel. Os médicos à bordo do Abaré podem consultar com seus parceiros ao redor do mundo e enviar raio X e outras imagens para diagnósticos especializados.
Como resultado, milhares de pessoas que vivem na Amazônia agora se beneficiam  de cuidados médicos de alta qualidade. Além disso, com a conexão banda larga, o projeto contribui para oferecer às comunidades do Rio Tapajós, programas de treinamento educativo com o apoio de Universidades Locais.O Projeto Conexão Amazônica também apóia diretamente as ações da Rede Mocoronga de Comunicação Popular que realiza oficinas para a criação de arranjos educativos locais em que jovens das comunidades produzem conteúdos de cultura digital, como vídeos com celulares que trazem para a Internet, a realidade e o encanto da vida rural ribeirinha. Os vídeos estão disponíveis no Canal do Youtube do Projeto Saúde & Alegria: www.youtube.com/saudeealegria. Em 2011, a conectividade foi expandia para a comunidade de Suruacá, e foi iniciado o  Connect To Learn, um  programa da Ericsson que trás educação nas nuvens para escolas de Ensino Fundamental.
Françoise Trapenard, presidente da Fundação Telefônica, disse: "A região, que até a chegada do sinal da Vivo, viveu os desafios do isolamento imposto pela geografia da região Amazônica, é agora um lugar de pessoas conectadas. A motivação original deste projeto teve um foco na educação e na saúde com o objetivo de promover, através de novas tecnologias de informação, oportunidades de aprendizagem para os jovens ribeirinhos e simplificar as atividades de cuidado médico para a população atendida pelo barco Abaré."
Cae­tano Scan­na­vino, coor­de­na­dor e fun­da­dor do Pro­je­to Saúde e Ale­gria, disse: "Muitos pensam que a Amazônia é só uma flo­res­ta, com ár­vo­res e rios, sem gente. Mas vivem nela mais de 25 milhões de pes­soas. Meu sonho é que todas as co­mu­ni­da­des da Amazônia pos­sam estar co­nec­ta­das, por­que o mundo de­ve­ria con­he­cer a beleza, a ha­bi­li­da­de e  a sabedoria des­sas pessoas. Se fossem mais ouvidos, com certeza teríamos um mundo melhor"
Elaine Weidman-Grunewald, chefe de Sustentabilidade e Responsabilidade Corporativa da Ericsson, disse: " É uma honra que a GSMA tenha reconhecido nossos esforços, mais estamos ainda mais horados por termos feito parte de algo tão poderoso como o 'Conexão Amazônia'. Isso é  exatamente o que tecnologia para o bem significa."
Maiores informações:
Paulo Lima – Coordenador de Inclusão Digital
Projeto Saúde & Alegria
93 3067 8000 / 93 9149 4801
* Tradução: Cibele Gomide. Texto original:
http://www.ericsson.com/br/news/1681229